The V5 Forex Fury BETA is now available for download in the members area. Whether you know it or not, all members get free updates for life. So please go to the members area to download the newest version.
This update is just another step in pushing this project forward.
We listen to our members, and provide updates based on their requirements.
Forex Fury V5 Beta
If you don't know what a Beta is, it's a test.
You will not want to run the software on any live accounts during the beta just incase there are any bugs. Run the bot on demo accounts and then please report back to us if you have any issues. Then, based on how many issues there are, if any, we will release the full stable version within a couple months.
Shortly after that, we will start looking into our next update whether its 5.1, 5.5 or 6 if it's a major update like this one.
What's in this update?
We mentioned all of the additions in the last post here.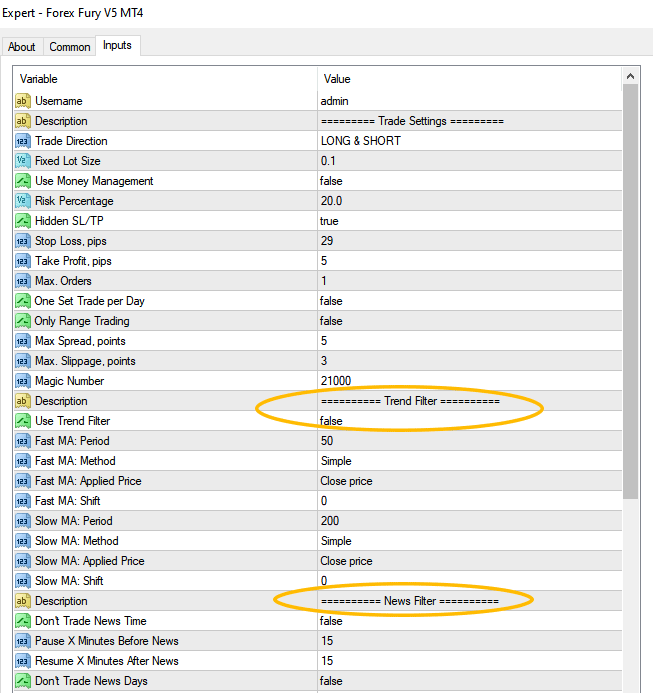 The most notable changes you will notice in this image is the Trend filter and the News filter (only in MT4 version at this point).
Most clients will be utilizing the News filter as it's very easy to use and will help avoid volatility which in the past has caused us some major issues.
The trend filter is a unique new option to help the bot trade in trending conditions. To do this we have added a customizable fast and slow moving average. This is untested so we won't be able to speak on it's viability just yet, but we do believe it should create even more positive opportunities for us moving forward.
Conclusion
Go to the members area, download your free update to the V5 beta, and start testing.
ENJOY!
Thanks for your continued support. We have many more goals to achieve!