It's an exciting day, because it's the first Major Update we've released in over 2 years. While we update the software frequently via the DLL with minor market tweaks to ensure that we stay ahead of the market. This new update, provides some major contributions to help traders win more trades, and get more pips per win.
How to Install V2?

The installation process is simple. You don't even have to delete V1 if you don't like. The update is now available in the members area.
Just copy and paste the ForexFuryV2 ex4 file into your experts folder, refresh it, or restart your platform and you can start putting it on your charts. You do not need to reinstall the DLL.
One main difference with this version is that you can choose to use MT4 or MT5. So pick whichever platform you prefer. Most will still prefer MT4, but we wanted to provide the new version so that our software is more compatible and accessible to the community.
What are the Main Additions in the Update?
There are three main additions to Forex Fury in the latest update. All of which are perfectly compatible with recently released Forex Fury Success Guide. We will break these down for you now so you know what to expect.
1. Trailing Stop
This is arguably the main addition to the software. Many of our clients have been asking for it a long time, and so we decided to put our coding team to work on it.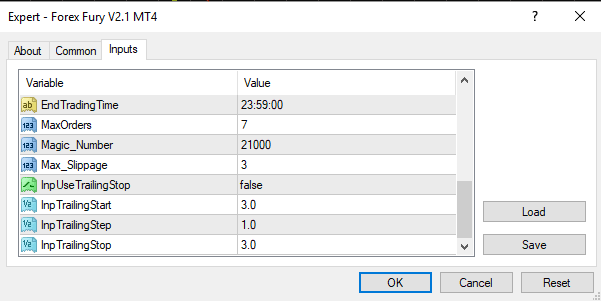 The purpose of the trailing stop, is to let trades breathe by readjusting the stop loss as the trade moves. So, instead of hitting the usual TP at 5, the EA will try to win as many pips as possible, and if it starts to go against us, then the SL will be hit.
So how do you use it?
You will want to set your TP much higher, as the trailing SL will handle it.
The current default setting will work like this:
If trailing stop is active it will look to secure 3 pips.
Once it hits 3, it will set the SL at 0, and let the trade continue on.
If the trade goes back to 0 pips, it closes out at 0 pips.
If the trade continues to 4 pips, then it will set the SL at 1 pips.
If the trade continues to 5 pips, then it will set the SL at 2 pips.
It will keep doing this, and secure as much profit as possible.
If the trade runs in the right direction for an extended period, this will lock in large wins.
You can set the parameters however you like, if you want the trades to stay short at 5 pips, you can still do this, but it won't give the trail much room to breathe. So feel free to play with it, and find the setting you most prefer.
We will throw some tests up / settings as well so stay on the lookout for those.
Parameters
Start: The start point for first trail.
Step: The distance between price and SL after first trail. so after first trail there must be X pips to apply the next trail.
Stop: The SL distance after each trail.
As everyone gets more acclimatized to V2, there will be trailing stop setting suggestions, and tests moving forward.
2. MT5 Compatibility
The second most important aspect of this major update is that we now provide a fully functional MT5 version of the Forex Fury software. This makes the product more accessible, and available to clients that prefer Metatrader 5 over Metatrader 4.
3. Market Updates
As is the case with any Forex Fury updates, we make sure to do market analysis so that our software can continue to perform in all conditions. We have spent many hours working on new pairs, and you will see many of these included in our trading results in the coming months.
Conclusion
Thank you for your continued support. We will keep updating Forex Fury and ensuring that you have a robot that you can rely on for years to come. We are dedicated to this project, and making it as positive an experience for as many clients as we can.
Can't wait to see everyone's winning trades!