As you know, we are always doing everything we can to push this project forward.
V3 was a great step for us, and V4 even greater.
We do believe that V5 will be the best yet as we continue to find ways to be more profitable.
What's in V5?
We are still early in development so there is no timeline for the beta yet. Please don't email asking. We will tell you when this is available via the website and our socials.
These are the plans so far:
News filter (this will likely roll out on MT4 only at first)

Remove reversal strategy (never found a use for this)

Martingale strategy adjustments

Change money management to set it based on account size %, not account size and SL as this confused many clients

Allow for traders to enable hard SL / TP so it's not hidden from the broker

A trend filter for more accurate trending market entries which can be enabled / disabled
We are all incredibly excited about this version, and about the Forex Fury project. It's crazy to think that we are nearing our 7 year anniversary in late October. During the 7 years, we've come a very long way. Thinking back to the early days, it's clear we had a lot of room to grow, and a ton to learn.

We are not done learning, and this is still only the beginning. Your lifetime membership will truly be for a lifetime.
Longs & Shorts Only
In the last version, we added a longs & shorts only setting. We didn't find much use for this setting until recently. A lot of our clients started testing it, and members of our team as well.
If you want to see how you can use your manual analysis in conjunction with Forex Fury to have sharper entries, watch this cool video here:
If you enjoy the video, consider subscribing and liking to support the Forex Robot Nation YouTube channel.
Conclusion
V5 is around the corner, and more wins are to be had.
Make sure that you are checking the members area often, and that you are testing the software regularly. There is so much room to be successful with the Forex Fury software, but not if you're just sitting on your hands. Take an active role in learning how to use the software, the different functions so you can grow your account with ease.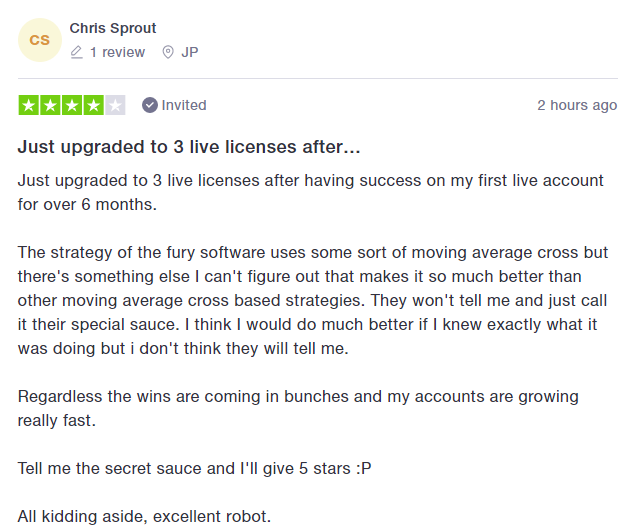 We are having multiple clients upgrade their licenses to run more live accounts every single week, which is a great sign to us that V4 is producing profits.
Thanks for your continued support on this journey, and we can't wait for you to get your hands on V5!